Social media has become one of the most dependable and powerful sales tools for eCommerce businesses. Companies can go the patient route by building an organic following or the more direct route, with highly-target ad campaigns.  
With 35% of millennials (and a significant number of older shoppers) making purchases via social media, there has never been a better time to get on board. Use this article as a guide for understanding the real value of social media for eCommerce, how to build an effective strategy, and tips & best practices for getting the most out of your social presence.  
Why social media is crucial for eCommerce brands
The idea used to be that using social media in eCommerce was a bit wishy-washy; no tangible return to the business and "while it could work for some brands, it wouldn't work for us"—this was a very common belief.  
eCommerce businesses can't afford that perception today. The fact is that every type of business can improve sales or grow the business using social media—with an extremely tangible return. The main reason is that for virtually all businesses:  
Your customers are on social media; 

It is extremely cost-effective to market to them;




It helps create a solid image

.
It's where your customers are
Today three-quarters of shoppers use social media when making a purchasing decision.  
Most of them use social media to actively engage with and discover brands and products to do with their interests. If you sell motorbikes, you can build a following of motorbike enthusiasts on social media—and gradually and thoughtfully sell to them.  
Some brands never sell directly on social media (we cover how to do this later) but simply use the platform to build an engaged audience with awesome content…which inevitably leads to improved sales anyway. The benefits of social media in eCommerce can be massive across the buyer's journey: from stoking awareness of the product or solution (like we've just described) to actively acquiring customers and then retaining them over the long term. 
It's extremely cost-effective
At its most basic, social media is free. Companies can set up their pages, post content, respond to messages, and build a following without spending a dime on the platform. There are still internal costs (mostly staff costs for planning, creating content, and handling messages) but it's still possible for businesses to enjoy massive growth using free social media.  
Paid social ads are more divisive: they can be exceptionally cost-effective (which is easy to measure since there is direct attribution) when done right. The problem for many brands is that they launch head-first into paid ads without a plan—and in those cases, the costs can get out of hand fast.  
This is why the rest of this article is devoted to building and executing your eCommerce social media strategy, what to expect, and in-the-trenches advice for making it work.  
It helps create a solid image
Social media allows eCommerce companies to cultivate, build and share their image. That's why elements such as logos and cover photos are so important: over time, audiences learn to recognize your brand even when they're not actively looking for your products.  
Your brand image helps you stand out and cut through the noise of social media, which is an essential weapon because that noise can be loud!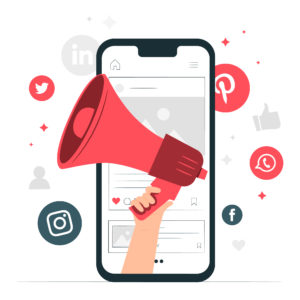 Building a social media strategy for eCommerce
 Here we'll explore valuable, general advice for building an eCommerce social media strategy. We'll follow this up with specific tips for building an organic following and also executing paid social media ads—these are both exceptionally powerful tactics, but each has its own set of requirements and techniques. Let's start at the start: goals.  
#1 Define your goals
Your goal is probably to get more customers, more revenue, and more growth. But when it comes to building a strategy, your big goals should be more targeted:  
We want to 

drive more traffic to our website or specific webpage

 

We want to 

build an engaged following

 

that loves interacting with our brand

 

We want to 

sell % of our products directly through social media

 

We want to 

bring more locals into our brick-and-mortar store

 
It might be a variation of one of these or something completely different, but this top-level aim is vital. When making decisions down the line, you can always say, "Okay neat idea, but is this helping bring people into our physical store?" It serves as a check against yourself.  
You can then create actionable sub-targets depending on your main goal:  
We want to 

drive more traffic to our website or specific webpage

 

Convert 1% of post viewers to site visitors

 

Hit 10,000 monthly site visits within 6 months

 

We want to 

build an engaged following

 

that loves interacting with our brand

 

Achieve an Instagram 

engagement rate

 of 5%

 

Grow a community of 2500 followers on Facebook

 

Land 5 volunteers a month for your "Our Customer's Story" feature posts

 
You get the idea. Look for measurable, SMART outcomes which you can directly attribute and tie to your larger goal. Getting a boatload of new followers sounds fantastic, but if none of them are visiting your website, it might be worthless. 
#2 Find out where your audience "lives"
Nearly 3 billion people on Earth are "active social media users". Since your customer base likely runs in the thousands (possibly the hundreds or tens) that's a really unhelpful number. Your goal is to dominate a very specific niche, not appeal to half the world.  
If your eCommerce business is just starting with social, you don't need to be on every platform. Figuring these platforms out takes time, and you're better off getting good at one before moving to the next.  
Companies like Hootsuite, Keyhole, Google Analytics, or SparkToro can tell you where your customers spend their time. You can trace certain keywords or hashtags, search by demographics (based on your past customers) or see which social platforms are directing the most traffic to your website.  
Once you have the right platform(s), it's time to start building your presence and dominating your niche—with the most relevant content and the best interactions with the audience.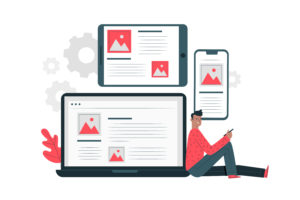 #3 Create and optimize your profiles
When creating your company profile, it's incredibly important to get the basic information down first:  
What's your company called and what do you offer? 

 

Where are you based? 

 

How do I contact you? 

 

How do I buy from you? 

 
It's incredible the number of businesses who neglect these essential details. The use of relevant keywords and hashtags, clear CTAs, and minimal jargon is essential. Optimizing for eCommerce means having clear buttons and CTAs, website links to any products showcased, and never forgetting that the end purpose of your social media profile is to convert.  
#4 Start posting 
The fundamental key to building an engaged organic following is content. This can be virtually anything:  
Blog posts and helpful tips

 

eBooks, Guides

 

Customer success stories

 

Collaborations with industry influencers or partners

 

Webinars, Videos

 

User-generated content

 
We've listed most of the big hitters in terms of longer-form content. However, in 2021 we are seeing a massive rise in the popularity of snackable content: infographics, memes, quotes, and video clips are popular attention-grabbing formats for social media scrollers.  
As long as it fits your brand and resonates with your audience, your social media profile is boundless. Inject your personality into everything—doesn't matter if you're funny, serious, insightful, playful, antagonistic, or flamboyant. As long as it's consistent, high-quality, and on-brand.  
Not sure where to start with content? Start by thinking about any questions your customers might want answers to—and turn the answers into content! Getting inspiration from your competition is also fair game, as well as deploying social listening: this is a relatively new technology that lets you "listen" to what people are saying about your brand, competitors, industry, or product type across social media and the internet in general. Use this data to inform content ideas.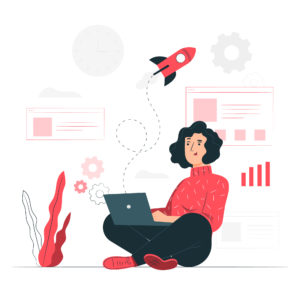 #5 Use tools to automate 
The biggest hurdle to social media success is the sheer amount of time you can lose racing down rabbit holes, analyzing the competition, responding to comments & DMs, creating and scheduling content, and producing analytics. From day one (and long before you see any kind of payoff) there is a lot of work to do.  
Here are a few ways you can optimize your workflow without losing your personality or credibility:  
Schedulers

—There will be a most active time window for your audience. 

Use post schedulers

 to prep content in advance and always release it at the optimal time. 

 

Sophisticated replies

—As a rule, automating replies to your brand is an awful idea. It's disingenuous and off-putting. But some tools allow you to save authentic, pre-written responses to common questions. When a question comes through, you can send the appropriate response with a single click, which can save time for some companies without any reputational damage.

 

Customer support chatbots

—On social media, it's generally accepted that 

chatbots

 are a reasonable first line of defense. If you get a lot of simple queries, it might be worth having a bot direct them to other resources (like guides or FAQs) or whatever ticketing and support system you use for more complex queries. 

 
#6 Interact with and engage your followers
Any time a person comments on a post or sends you a private message, you should always take the time to respond—without copy pasting or giving very short responses. Apart from an inundation of similar queries (like we talked about in the last section), it's always worth the effort to give personal, personable replies. Everyone builds your brand, credibility, and relationship with followers. 
Research shows that 29% of consumers expect this response within an hour; the vast majority expect to hear back within a day. For successful eCommerce businesses, social media is becoming a valuable extension of traditional customer support. Not only that, but when queries are handled well and customers are delighted, social media can become a lucrative source of customer reviews.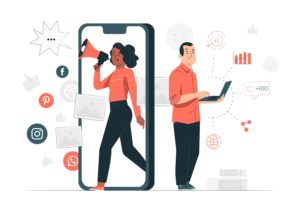 Tips for building an organic following
You've already done the required legwork: you know who you're targeting, you know their interests, and you're actively building out content they'll value. The first step to building an organic following is to keep up this effort with total consistency: keep creating, keep publishing, and don't give up when nothing changes overnight.  
Ideally, you'll use your analytics to learn to publish the right content at the right time for your audience. Maybe you get huge engagement with your hilarious snackable content on weekday mornings, or your spike in blog traffic is always 24 hours after posting. You never know what you'll find, but hitting your audience with well-crafted and well-timed content makes for a powerful one-two punch.  
At the start, simply promoting your social media profiles is key. Promote them everywhere. After building your strategy, you need to let people know you exist! Leverage your employees' accounts, ask industry friends and colleagues, and add it to your signature or business cards—anywhere you can get your name out.  
Another tactic to consider is identifying, following, and connecting with influencers in your industry. We've done a full exploration of using influencers to boost eCommerce sales, but essentially these collaborations can help bring qualified, interested followers to your channel or profile. Successful collaborations can drip-feed new followers for months!  
It should go without saying that you should interact with everyone who comments on or shares your content. Being proactive (with your authentic tone of voice!) and "mingling" with followers is crucial. It's key to showcasing your brand's personality and building trust.  
Finally, we recommend getting a hold of your hashtags. Deploying relevant hashtags can significantly increase the discoverability of your brand. Many social media users follow specific hashtags related to their interests—it's an easy way to see industry news and what thought leaders have been up to without following tonnes of accounts.  
Make sure to search hashtags yourself before using them (some hashtags are used for nefarious purposes!) and where possible, create unique hashtags for your brand. On popular content, you can simply tell users, to follow this hashtag for all posts related to [subject] rather than leaving them to figure it out themselves!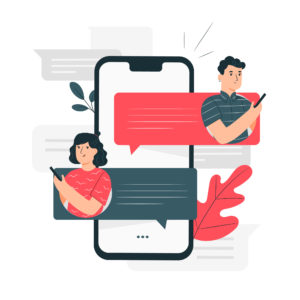 Tips for executing paid social
 There are two challenges with organic social media as a strategy: success is not guaranteed, and it's slow. Despite being immensely powerful once you get going, most companies will put in months or years of effort before their organic social account is thriving.  
eCommerce ad campaigns are much more direct: you pay to get your content in front of highly specific audiences instantly. When the content, audience and offer align well, you can get tremendous results. Such campaigns attempt to:  
Spread awareness about new products or causes

 

Increase post engagement and/or your follower count

 

Increase overall traffic to your online store 

 

Promote a specific product, catalog, or event (like a sale)

 

Bring potential customers in-store

 
Leverage audience segmentation, targeting, and personalization
Knowing your audience is a useful yardstick for organic social media. For ads, you can target this specific audience and exclude everyone else! Big social networks like Facebook, Instagram, LinkedIn, and Pinterest all allow you to segment audiences and create ultra-personalized campaigns.  
Say you run an online apparel store. If you understand the demographic that's most likely to purchase a certain line of clothing, you can build that audience on Facebook and then target them with highly specific ads—but demographic is only one data point. You can also build audiences off:  
Specific brands that prospects follow

 

Geographic location

 

Job title or income level

 

Hobbies and interests

 

Behaviors, partner connections, and more.

 
With a bit of practice (or by hiring an expert to help), this personalization creates superpowered ads.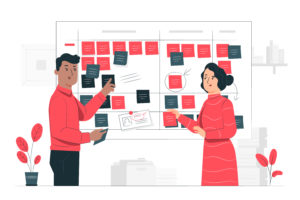 Understand Ad Types
If you're new to paid ads, you might be surprised by how many different options there are. To avoid overwhelming you here's a quick intro to some of the most popular ad types:  
Image ads

—These are the staple of social media advertising. An engaging, text-light image that catches the user's attention. Most of the ads on Instagram and Facebook are image ads, with some descriptive text underneath or to one side. 

 

Carousel ads

—Carousels are used when a single image isn't enough. They allow users to swipe through various images or videos, typically for things like full product lines, seeing multi-step processes, or companies offering an array of solutions. 

 

Product ads

—These let customers see the prices for every item in the ad. As Social Commerce takes off, we'll be seeing more and more of these ads across social media. 

 

Stories ads

—Brands can insert ads between users' stories on Snapchat, Facebook, and Instagram. These are becoming increasingly interactive, allowing users to click and navigate ads in a more immersive experience. You'll need a good design team on-hand for these! 

 

Text ads

—Your classic text-based ad still has a role for many companies, though image-driven posts have become the significant majority. 

 
Design ads with a mobile-first focus
79% of users exclusively access social networks on their smartphones—if your ads are still set up for desktop, they're set up to fail. The easiest areas to focus on are:  
Simplicity.

 Keep all artwork, text, and designs simple and easy to understand. 

 

Concision.

 Convey your message impactfully, but with as few words as possible. 

 

Display.

 Build all aspects of your design around smartphone use, 

then 

scale up for desktop users. It's all about tapping, scrolling, and swiping. 

 

CTAs.

 Make all buttons and CTAs as obvious and prominent and easy to find as possible. 

 
One interesting idea is the B2Bob framework. Instead of "business to business", we should rethink the acronym as Brand, 2 seconds, Benefit. Or in other words, you should aim to showcase your Brand within 2 seconds by highlighting your Benefit, while speaking to a human-like Bob. Read more about the B2Bob framework.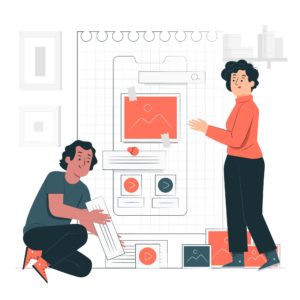 Test, Measure, and Optimize
Testing lets you discover which of your ads works best. You iterate on the successes to create increasingly effective ads for lower costs. Once you have a successful ad, make small and iterative adjustments—if you just change everything, how will you know what was working?  
Facebook in particular makes assessing and improving your ads straightforward. They provide heaps of data (including which audiences are most receptive to your ads) to help you improve. This is because they provide an out-of-the-box A/B testing tool that allows you to change the various variables in your ad campaign (such as audience, placement, or ad creative). 
The difference between eCommerce social media and "social commerce"
The main ideas of eCommerce social media are building brand awareness, engaging with prospects and clients, building trust, and ultimately contributing to the final conversion. More recently another powerful function has emerged: selling products directly within your social account, and this process is referred to as social commerce.  
Most of the major social media platforms now offer native shopping solutions:  
Instagram

—Shoppable Posts

 

Facebook

—Facebook Shops

 

Pinterest

—Shoppable Product Pins and 'Shop the Look' ads

 
Snapchat and TikTok are dipping their toes into social commerce but haven't committed yet. Once smaller social platforms have a cost-effective way to join the party, social commerce will become ubiquitous. After all, jumping from one app to another is an extra hoop for customers and will cause some churn.  
And of course, social media companies want your social commerce to succeed so that users stay on their apps for longer in general, since this all helps them increase revenue. It's a natural partnership and the impact of social media on eCommerce is only rising—keep your eyes peeled.   
Start your social media journey
If your eCommerce is considering a move into the world of social media, there's no better time to start than right now. Across this post and our other content, you've got all the information and guidance you need to make a considered and impactful beginning. Power up your social media from the start with this list of 14 great social media tools to help you create images, schedule content, access analytics, and much more!  
Source: 2checkout.com ~ By: Stefania Oprea ~ Image: 2checkout.com