According to the US Commerce Department, Americans spent $453.5 billion shopping online in 2017. A lot of that sales activity originated from social media, where seven out of ten Americans spent an average of two hours per day. That means that today's salespeople can't expect to be successful using traditional sales methods. Thankfully, with new challenges come new opportunities—for those who can adapt.
So, where do you think that opportunity lies for today's sales professionals? You guessed it, social selling!
We've written at length about why social selling beats the old sales model. Now it's time to tackle the how. That's why we've collected best practices for success to help today's sales teams avoid common stumbling blocks with social selling on LinkedIn and Facebook—which together boast more than 2 billion users (in other words, 2 billion potential customers).
Social Selling With Linkedin
DO: Reach out to your mutual connections.
We tend to associate with people who are similar to ourselves. In psychology, this is known as the similarity-attraction theory. Now consider your LinkedIn connections; focus on the ones who are satisfied customers of your product/service. Those are your ideal customers, right? Who do you think they associate with? In other words, who are their LinkedIn connections?
According to the similarity-attraction theory, many of their connections are similar people who would therefore also fit the demographic of your ideal customer! So, start reaching out to those mutual connections to get a sense of their needs and whether your product or service can help fulfill those needs.
DON'T: Send generic connection requests.
In sales, we place great emphasis on the hook—that initial attention-grabber that convinces your audience to hear you out. You would never start a pitch without a hook, right? Don't make a LinkedIn introduction without one either. Accompany every invitation to connect with a personalized note.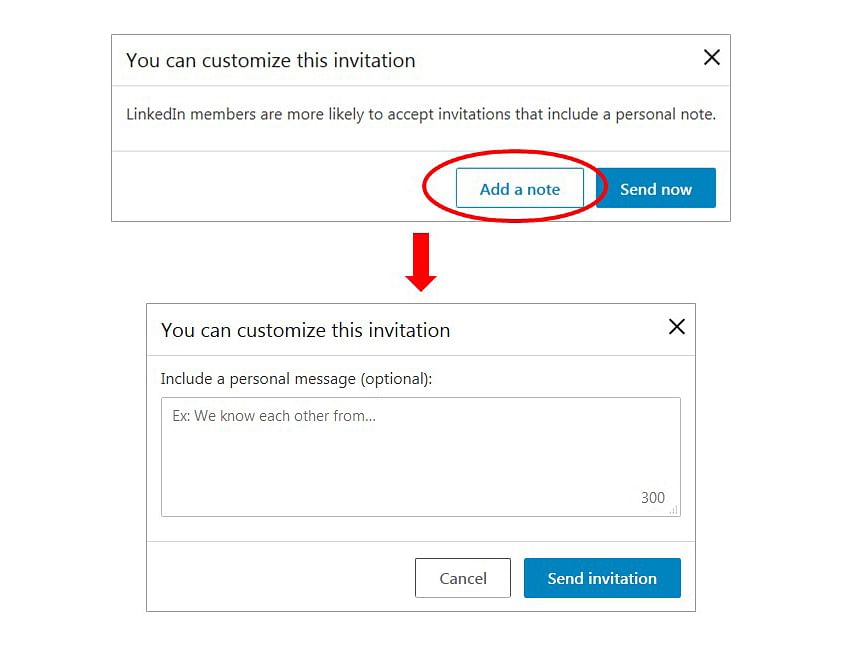 DO: Share valuable content and engage meaningfully with others.
Over the past few years, LinkedIn has blossomed into a powerful content marketing platform. If you come across an insightful article relating to your industry, share it (bonus points for creating original content of your own). If people consistently find the content you share valuable, they will start to see you as an expert resource and are more likely to reach out the next time they have a problem that your product/service can help solve.
DON'T: Disrupt the professional ambiance.
LinkedIn gives off a professional tone that separates it from other social channels—users expect to network in a professional manner. If you make a habit of overstepping these boundaries, you risk upsetting people or turning them off to conducting business with you. Avoid overly casual or personal posts. If you need to sound off about something, find another outlet to do so. Use the right social platform for the right purpose.
DO: Optimize your profile for higher visibility
Let your customers come to you by appearing in more relevant searches on LinkedIn. Your headline (the line under your name that typically gives your job title), summary, and contact details are opportunities to showcase your area of expertise and your brand. Your summary should explain what you're passionate about, your skills, and how you can help others.
Include a call to action next to your contact information to let your connections know you're available to discuss your product or service further.
Do you have a sales deck, presentation or video that does some of your selling for you? Include it in your profile as well.
DO: Consider investing in LinkedIn's premium/Sales Navigator options
Build a better, higher quality lead pool with a premium profile. The more quality prospects in your network, the greater the sales opportunity. The premium function on LinkedIn allows you to save more searches and search based on criteria such as seniority level, years of experience, function, and company size, so you can cater your searches to align with your ideal customers.
Similarly, LinkedIn offers a paid program called Sales Navigator that provides lead recommendations based on your preferences and up-to-date insights about those leads.
Social Selling on Facebook
DO: Participate in Facebook groups.
It can be difficult to proactively reach out and make the initial contact with customers on Facebook because the platform is rooted in a family-and-friends-first approach. However, that doesn't mean there isn't a way to successfully connect. There is, in fact, a vibrant community of professional networking groups on Facebook. Make a habit of being active in the ones that are relevant to your industry. As a digital marketing consultant, for example, I am a member of several Facebook groups directed at entrepreneurs and managers of nonprofits.
Members of these groups are already expecting to connect with professionals in the field and share information, so pitches about a product or service won't be met with resistance—especially if you've done your homework and are offering a solution to a potential problem.
DON'T: Post without first considering how it may affect your brand.
It's not uncommon for people who use Facebook as a social selling tool to mistakenly treat it the same way as they would manage their personal profile at first. Whether the page is under your own name or under your company's name, when you're using Facebook as a social selling channel, your brand's reputation is at stake. That means any opinion pertaining to things like political or religious beliefs, rants, etc. can be severely damaging to your brand. Of course, that's not to say that you should hide your interests and convictions. Simply be aware of how you portray yourself and your company, and carefully think through how your message may be perceived by others before you post.
DO: Make a great first impression.
One of the first things that people see on your Facebook page is the cover photo. This is the large banner that runs across the top, above your profile photo. For the greatest impact, include your company name and logo (if they aren't already visible elsewhere on your page), your tagline or catch-phrase, and a compelling call-to-action. The cover photo is one of the most important aspects of building your personal brand.
DON'T: Come right out of the gate with a sales pitch.
People love to shop online, but they generally don't like being sold to. So, during your first interaction with a potential customer, don't immediately launch into your pitch. Begin with an icebreaker; establish some interests. Then, as your relationship grows, opportunities to discuss business will emerge organically.
Mastering the Art of Social Selling
These tips should get you on your way to social selling success on LinkedIn and Facebook. However, this is just the tip of the iceberg. There are countless more strategies out there, and you will have to test and refine many to find the best approaches for your specific audience and product/service. Platforms like Twitter, Instagram, Pinterest, and Snapchat also have their own unique considerations. The effort will be well worth it though, as 72 percent of salespeople who use social selling outperform their peers who do not.
If you'd like a jump start on your way to becoming a social selling rockstar, check out our Digital & Social Selling Certified Associate Training Course, a deep dive into the latest strategies crafted by social selling experts.
Source: simplilearn.com ~ By: Zuhayr Mallam ~ Image: Canva Pro