E-commerce and m-commerce market overview in 2023
E-commerce has been growing at a high speed for the last ten years, but the pandemic of 2020 has become a turning point for many industries, including online and offline shopping. Businesses that had no online presence have realized their role in the modern world and started to create e-commerce websites en masse. Е-commerce and m-commerce technologies are keeping up and evolving each day as well.
By 2022, the global e-commerce market will reach almost $5 trillion, with B2B e-commerce even surpassing this figure. In the US alone, retail e-commerce sales will reach over $1 000 billion by 2023 according to Statista.
The largest e-commerce market in the world is China: in 2019, its e-commerce sales reached $1.935 trillion. However, the Chinese market is hard to tackle, so here's a list of all the fastest-growing e-commerce markets according to Statista:
All businesses that already have online stores may be interested to know that mobile shoppers prefer to choose and purchase products online through a mobile phone rather than a computer. So if you already have a web store, it may be a good idea to optimize your e-commerce store for mobile platforms.
According to 99firms, mobile shopping will take almost 73% of the e-commerce market share by 2022, as new generations of buyers are more and more likely to purchase products with their smartphones.
The e-commerce trends listed in this article are mostly relevant to both web and mobile e-commerce. However, there are also some mobile-specific trends in the e-commerce industry and technologies that are currently taking the market by storm. Let's review these e-commerce trends in 2023 to find out what to look out for in the next few years.
What is trending in e-commerce?
Augmented reality
Though it's been available for a long time now, augmented reality (AR) hasn't yet become a standard for shopping apps: most e-commerce applications that have AR offer it as the killer feature that distinguishes them from their competitors.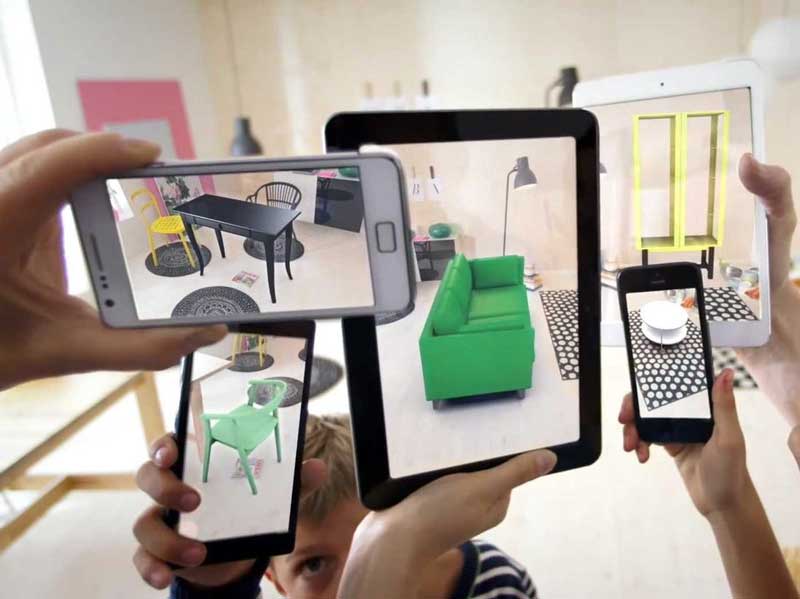 AR is one of the technology trends that can affect a business in a number of ways. You can make it your selling point too, as it will allow you to make yourself special — for now. AR is a growing trend, and each year it becomes more and more widespread. And if you think that AR is only for games, I'd like to give you a few examples of how this technology can be used in online shopping.
1. To merge the online and offline experience
Ikea offers the most famous example of using AR for connecting the offline and online experience. The Ikea app allows users to see how furniture will look in their homes with the help of AR.
Ikea's AR app became the second most popular free application built with the help of Apple's ARKit in just six months after the app release according to SensorTower.
2. Gamification
AR is a mobile-specific technology that's most often used in games. It was only natural that businesses would start using it for gamification.
Gamification in e-commerce is huge: businesses use loyalty programs along with games and challenges to encourage users to buy more, share their experiences with friends on social media, and win special offers that increase their brand loyalty.
Augmented reality can be an effective marketing tool to attract users to your e-commerce application.
Artificial intelligence and big data
Artificial intelligence (AI) and big data are used by all large e-commerce players like Amazon, eBay, and Alibaba. These companies use large amounts of data about individual users to suggest products that will be relevant to them, increasing conversion rates like crazy. AI has been among technology trends in e-commerce for several years now, and it's only evolving.
It's hard to imagine a modern middle to large size ecommerce business that operates without big data
Also, you don't need to create overly complex algorithms to bring benefits to your business. There are lots of ready third-party solutions you can integrate into your shopping app or website to start getting information about your customers.
AI can also help you to predict demand so you can manage your supply chain efficiently. AI and big data are rather costly investments, but they can bring lots of benefits to your business.
Social media marketing
If you cater to Millennials and younger generations, you can't ignore the power of social media. In 2020, 44% of Generation Z consumers say that social media leads them to purchase certain products. Among Gen Z consumers, 37% increased their social media usage to decide what products to buy.
Social media is extremely important for both small and large e-commerce brands. Integrating social media is a baseline requirement for modern e-commerce solutions, but it's not enough.
For example, AliExpress combines gamification with social media marketing, exchanging online reviews and ratings for bonuses. There are already thousands of AliExpress brand ambassadors that recommend shops and products to thousands of their subscribers.
Online experience in offline stores
If e-commerce is only part of your retail business, you can still make your application useful in brick-and-mortar stores.
For example, you can integrate a QR code scanner into your app so customers can find out more about a product that's in front of them, or you can implement an app-based loyalty card your customers won't need to carry in their wallets. Location-based notifications are also an interesting idea: with their help, you can promote your stores as a user is near them.
Voice search
With the rise of voice assistants like Alexa that can purchase products on Amazon for you, voice search has become one of the latest online business trends and a vital part of the user experience in e-commerce applications.
Voice search isn't very hard to implement thanks to available voice recognition and machine learning technologies. Pairing your online store with a voice assistant will open your store to a new audience who prefers ordering by voice.
Video Marketing
The video provides high conversion rates to everyone, from social media influencers to businesses. Many companies create their own video production departments to create video ads or even just display their products online.
There are three main ways to increase your conversion rate with the help of videos in your e-commerce app or on your e-commerce website:
Insert a video player into your product page and present each product with a video alongside images.
Allow users to attach videos to their reviews.
Create a video streaming feature that will allow users to share their experiences with your products.
Subscription services
Unlike Baby Boomers, Millennials and Gen Z consumers are less passionate about actually owning things. They prefer renting or making recurring purchases. This is where subscriptions come into play.
The subscription model in retail helps e-commerce businesses increase their sales and also get lifelong customers who are loyal to their brand.
Retail subscriptions are especially popular in the fashion industry: clothing trends change all the time, and many young people would rather try something new each month than own their own wardrobe entirely.
However, retailers offer subscriptions for almost anything, from personalized product boxes to free delivery and even products that don't exist yet. Be creative and find something you can turn into a subscription for your customers.
Chatbots
Chatbots have been a hot topic in the last few years, but few companies have done them well. There's still room for improvement in the range of their abilities.
What chatbots are already doing, however, is improving the shopping experience for customers, who now can get answers to common questions immediately without having to wait for an email or a live support manager.
Chatbots are implemented in both e-commerce websites and apps and usually can handle a simple consultation on delivery, products, and services, or the latest special offers.
Headless e-commerce architecture
The demand for an omnichannel experience has made headless e-commerce architectures popular in recent years.
A headless architecture is basically a content management system (CMS) that has only a back end. The front end is displayed via REST APIs. Because the front end isn't predefined but is realized through an API request, you aren't dependent on a particular front-end framework. This allows you to store all your content in one place and show it on any screen without having to modify the database for each platform.
Here are some benefits of a headless approach to e-commerce software:
Flexibility — You can change the front end fast without having to make any adjustments to your back end.
Better customer experience — You can provide a consistent experience across all your users' devices.
Simple integrations — Because an API is the core way of communicating between the back end and front end in a headless architecture, it will be easier for you to integrate other services with the help of APIs.
Customizable products
In the world of mass production, unique and personalized products are what many people are after. You can create different ways of customizing the products you sell in your e-commerce store, be it mere packaging or something more.
A personalized experience is something you can easily achieve on your e-commerce website or in your app. People love to take quizzes, surveys, and tests. In exchange for completing these activities, offer loyalty program bonuses and learn how to personalize your users' experiences.
If your retail business is connected to health and wellness, personalization is definitely for you: go for deep customization and product suggestions for the best conversion rate.
One-Click Ordering
Amazon was the first company to successfully integrate this feature into their e-commerce mobile app. One-click ordering is a technology that allows users to buy products with just one click without having to enter any information like address, credit card information, and so on.
One-click ordering shortens the customer journey and helps to minimize issues like abandoned carts.
Final thoughts
E-commerce opportunities in 2023 are massive. Online shopping has been growing since the day it appeared, and the competition is as fierce as the demand for great e-commerce apps and websites. In this article, I've shared top trends in e-commerce that will soon become standard for most e-commerce businesses that want to stand out from their competitors.
To create a successful e-commerce business, you should pay close attention to creating a consistent and personalized user experience. Create loyalty programs and gamify them for the best conversion rates and customer satisfaction.
A chatbot will improve your customer service, social media and video marketing will build credibility, and big data will help you offer only relevant products to your users
To improve your customer service, implement a chatbot that will be able to solve at least the most common issues your customers face. To understand what your chatbot should be able to do, ask your customer support team about the questions your customers most frequently ask.
Source: mobindustry.net ~ By: Andrew Bloomenthal ~ Image: Canva Pro